I never want to miss anything or worse rush a place, but we had a very important date and only had one day for this mission.
It begun with Sammy and I on the road at 6am from Wellington aiming for Cape Palliser. Our plan is to make to my Family home in Norsewood in the Southern Hawke's Bay for a home cooked lamb (off the family farm) roast and to celebrate my fathers 60th.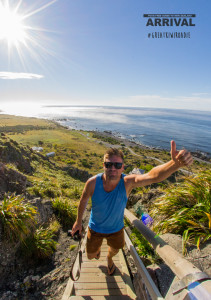 The day just never really went the way we planned it…..Which is what traveling is about 😉 We had only made it to lower Hutt when Sammy realised he had forgotten his camera charger, so a quick turn back and then we were back on the road! The sun rise was epic and no one on the road. We hit Cape Palliser and the most southern point on the North Island around 8.30am. A bit of early morning fog almost ruined our shoot but it lifted by the time we climbed the 250 steps to the top to reveal an epic blue bird day!
This also gave us a the opportunity to use my DJI Phantom for the first time this mission! I think I held my breath for every minute I was flying in the air as the drop was huge if I stuffed this up, but we got some cracker footage flying around the lighthouse and even managed to fly up the stairs without crashing it. This is a magic spot and well off the beaten track, not very many visitor make the long dusty journey here and I can honestly say if you make it here you wont regret it.
We spent a good hour here then hit to road aiming for Southern Wairarapa's wine country and Martinborough. A few quick stops along this road to shoot the scenery and of course the crazy Ngawi (pronounced Nar wee) bulldozers that are used to launch the Crayfishing boats. While we were shooting a boat come in and we got talking to the skipper who flicked us a couple of fresh crays! Gotta love it 🙂
In Martinborough we visitied Vynfeilds Estate as we only had time for one shoot we had been recommend that this would be a goodie. Sadly it was closed but the owners were all good with us running around and taking a few snaps. Then on the road again! Quick stop along the way to fly the drone down the road and follow the van overlooking southern Wairarapa's stunning vine country.
It's a great drive, you're either driving through rolling farm land or vine country and when you hit a town they are small and have that boutique feel. We stopped in Carterton to refuel our stomachs  and followed the signs from here to Stonehenge Aotearoa an interesting place, it's quirky that's for sure. Maybe it just seemed a bit odd to me as its all fresh concrete, perfectly built sitting in the middle of a farmers field, I would like to go back one day and give this more time, you really need to hear the stories about this place to make it come alive or else you're just going to be looking at a bunch of pillars in a field.
LOST….
While sitting in the van at stonehenge Sammy put our next destination into his iphone and we let google maps tell us how to get to Castlepoint.
We were having the best time of our lives driving through rolling brown fields in the 30+ degree afternoon, not a cloud in the sky, music blasting then the dirt roads started, no worries, she'll be right we kinda expected that, then logging roads! The logging roads got tighter and this was when we realised we were lost!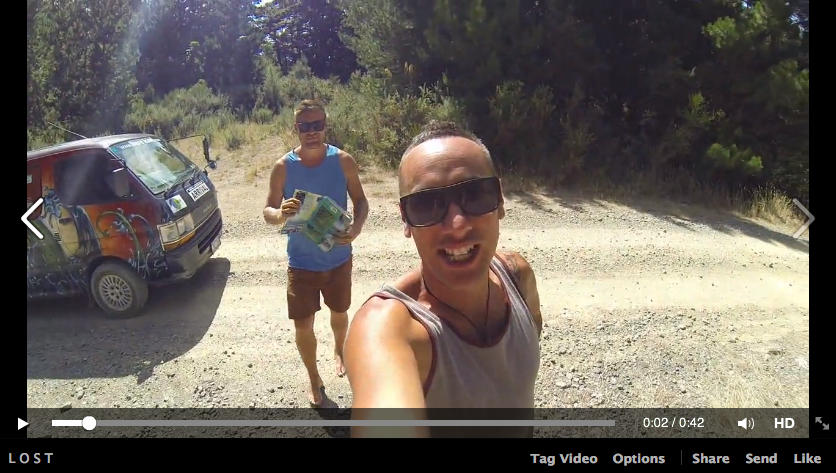 We were "vibing" our way of the forest roads (picking random roads that felt good like in a maze), when we came across a gate and sign on the other side warning not to come this way. Gotta love how we didn't have one at the other end.
Then BOOM the van  suddenly stopped! We had no breaks and no steering and we were ontop of a hill with no room to pull off the road,  slowly using the hand break we made it down the hill to a section of road we could park, on came the hiking shoes then we walked. After a couple of K's and few empty farm houses we came across the main road (we were so close dammit) we had one bar of service and called the AA who come to the rescue. The fun part was trying to explain to them where we were because we had no idea. Nick from Nicks Auto Services in Masterton to the rescue! What a legend, poor guy had to come out to the middle of no where to pick us up and on a Friday evening.
With the van now back in Masterton and the Roast on hold we spent the night in comfort at the
Masterton Motor Lodge.
Oh and they had a big deep freeze so we could put the Crayfish on ice.
The next day we meet Nick at his garage to start the autopsy. Turns out a bolt had cracked holding the alternator in place so once that dropped we lost all power and control…must have been that crazy road 😉
After a couple of hours in the Doctors the van was back on the road and better than ever! Cheers Nick.
Castlepoint
Castlepoint got it's name in 1770 by Captain Cook who compared the giant Castle Rock to the battlements of a castle.The Maori name for the area is Rangiwhakaoma, which translates as 'where the sky runs'
WOW what a place! Massive cliffs jutting out of the ocean with a light house hanging on the edge of them.  It's a good hour drive out from Masterton to the small coastal village, but you won't regret it…..just dont come via the backroads from Carterton 😉  The walk up to the lighthouse is dotted with plaques telling stories of local Maori and European history. Pitty it was windy as I wanted to fly the Phantom around and get some aerial footage here, but there are no regret's for making the journey out to here.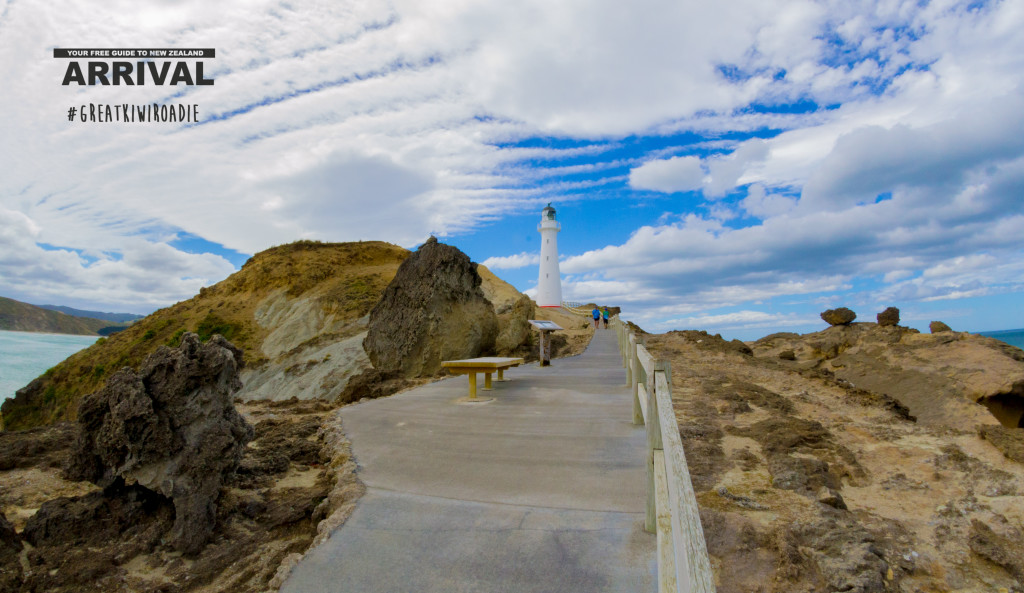 We spent a good couple of hours exploring this area just before the bad weather hit!  Next stop the family farm in Norsewood with a couple of fresh Crayfish on ice and some bloody good stories to tell the family. Thanks Wairarapa you have been awesome!