Before we headed here I called the Rongomaraeroa Marae in Porangahau to see if there was anyone who could come and meet us and tell the story behind such a beast of a name.
I had made a plan to meet with Alan Wakefeild at 9am at the sign, so off we went!
We first meet Alan in the early morning rush hour traffic heading into Parongahau, he pulled up to us straight after I took this photo and said "I think I'm meant to meet you, shall we head out there?"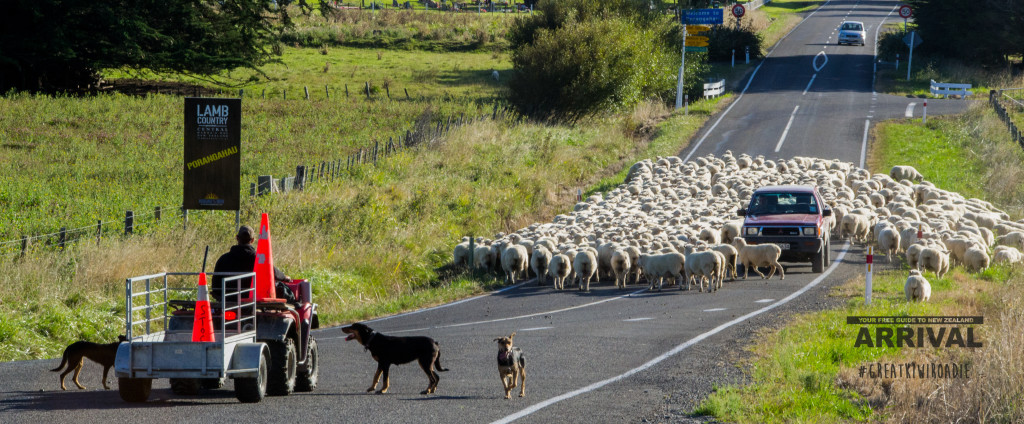 When you first meet Alan you get the impression this is a man of great importance, he has a very soft approach about him that relaxes anyone around him and yet he also seems like the Man of the village that won't take any rubbish or misbehavior from anyone.
I introduced myself to Alan and said good morning in Maori "Mōrena"  he seemed a little surprised by this, smiling and threw "Ata Marie" back at me.
Alan cut straight to the chase and started to tell us about his local pride and joy, he was very comfortable around us and was happy that we wanted to film this whole experience. The camera was set and rolling.
Alan first introduced us to the name with the idea that to know it you need to understand it. So first he introduced us to the "Koauau" (Core-o-o) a hand carved flute that is the main part of the name. The two that he introduced us to were hand carved by Alan himself! In no time at all they were in our hands and we entertained Alan as we tried to make any sort of noise from these……no joy  🙁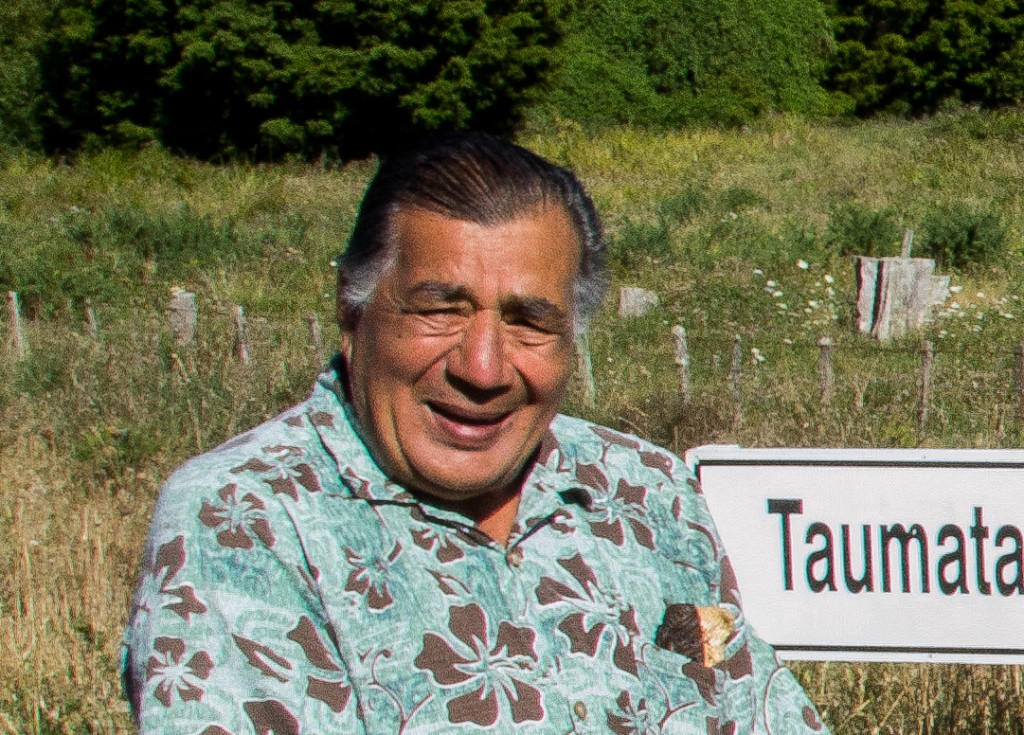 After a good laugh at this, we then rock, paper, scissored to see who would go first and of course I lost so I gave the name a go followed by Sammy. Alan loved this and we gave him a good laugh. Then the boss man showed us how it's done! Pointing out the Koauau in the middle that Tamatea played for the loss of his brother, see it's starting make a story now 😉
This was gold footage and we checked the camera to discover that it turned itself off after a couple of minutes! AHHHH Sammy restarted it and we tried a second time…..same thing. It was like someone was playing tricks on us, maybe it was the spirit of Tamatea? the man of the hills. Little bit more of the story there.
I think we entertained Alan more than he entertained us and we had the best time out there with him. He managed to change my vision of seeing a bunch of stumbled letters to a story.
Let me give this a go for you and see if I can explain it:
Tamatea, is said to be a man that could eat the hills, in other words a great mountaineer and hiker! Turipukaka-piki-maunga-tahu. He lost his brother in the Matanui battle and during that fight his brother was killed, it was a great loss for him and he grieved over his death. whakatangi.  For a long time Tamatea sat each morning on top of Taumata and play his lament on his flute, koauau-o-Tamatea (flute of Tamatea).
Ok so lets put that together now. Taumata-whakatangi-hanga-koauau-o-Tamatea-turi-pukaka-piki-maunga-horonuku-pokai-whenua-kitana-tahu. The hill where Tamatea, conqueror of mountains, eater of land, traveller over land and sea, played his koauau to his beloved. Easy eh?
After we spent time here Alan invited us to join him at his Marae! This is really a man you could never say no to and why would anyone turn down this opportunity.
I'm going to put it out there and say this was very spiritual time we had with Alan as he showed us around his Wharenui told us some more stories as Sammy and I sat crossed legged in front of the meeting house. He warned us that our journey has just begun and it will change us for the good, he also said he felt he had met us sometime before, giving us advice on "go for it mate! you boys are going to have a blast" He smiles and says "Boy is that the time? I'm sorry if I held you up?" Sammy and I had turned our clocks off along time ago and didn't care any more, but we knew we needed to move on. Leaving a great memory of this place and Alan I know I will return here one day, it wont be the same but I will return.