This destination has been on my "to do" list for along time…it definitely did not disappoint, if anything I think it has made it into my TOP 10 most beautiful places I have ever been to! Giant ancient forest stand guard over the pristine lake while no matter where you are exploring the massive Panakeri Bluff's stares down on you just to remind you how small you are.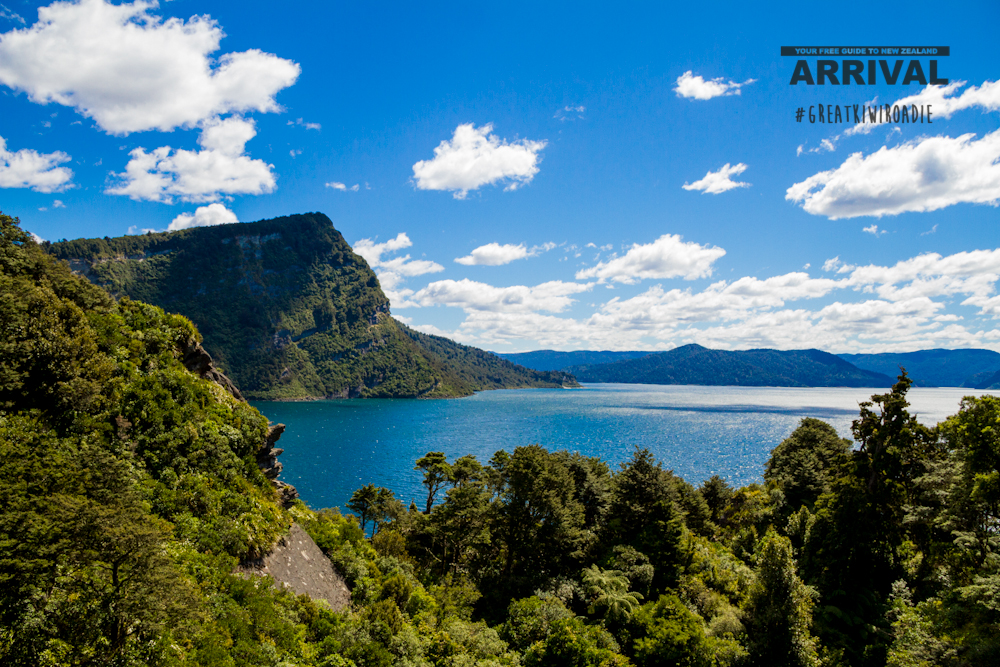 Te Urewera National Park is the largest area of native forest in the North Island and is home to nearly all species' of New Zealand native birds. It is also home to the Tuhoe people, known as the 'Children of the Mist' because they trace their ancestry to Hine-puhoku-rangi – the celestial mist maiden.
Lake Waikaremoana is most famous for being one of the 9 great walks, sadly we didn't have enough time for this however we discovered there is so much more going on.  Just of State Highway 38 there are a ton of trails to explore, epic view points, giant waterfalls and caves to adventure into, I felt like a little kid as we ran around with a stupid smile on our faces discovering this places secrets.
To get to Lake Waikaremoana we headed down the long dusty SH38 from Wairoa. It's a hell of a drive that can steal your attention away with it's scenery so take it easy and enjoy the road.
We stayed at the Waikaremoana Motor Camp based in Home Bay which is run by the Department of Conservation so this become our one stop shop for local knowledge, trail information and hot pies! Home Bay is also the main port of call for people doing the Great Walk, water taxis pick up and drop off from here plus most fisherman launch their boats. It's a big camp offering all styles of accommodation from camping to private powered cabins, and the best thing is there is no phone signal!
Our plan while here was to stay two nights and try and tick off as much as we could in one day, leavening our room at 7am Sammy headed up the Panakeri Bluffs to Bald Knob (classic name) while I explored Lou's lookout and Lake Kiriopukae. We split these missions up because there just wouldn't be enough time for the both of us to get footage of everything.
Lou's Lookout really blew me away, it had everything I could ever hope for in a 30min return walk. Old untouched rainforest, native birds following your every step, dramatic and crazy landscapes with a track that took me through a cave and finished with an epic view!
Te Urawera is a very spiritual place for Maori and I have always been told stories of how special and spooky this place can be, so when I was hiking in the early hours of the morning by myself I did have a few moments especially when I come around the corner the realised I had to walk through a small cave to get to my destination.
Lake Waikaremoana has a strong history of murder, massacres and general blood shed so when walking in this park I think its common to have a feeling you're not alone.
OK so in one day we ticked off:
Lou's Lookout
Aniwaniwa Falls
Papakorito Falls
Giant Rata on the Tawa Walk
Onepoto Caves
Lake Kiriopukea
Bald Knob
Onepoto Cave is something beyond what both Sammy and I could have imagined. Basically you park on the side of the road (dusty car photo) follow these old orange triangles through the forest and when you see cave head on in…yup that simple. However there are more caves than you think and there are no safety barriers, its raw, there's an element of risk, you do feel like Indiana Jones exploring these places for the first time and it's AWESOME!
Lake Waikaremoana really got to me, there is far more going on here than I could have ever imagine. I strongly recommend you all make the effort to explore this place is someway, even it just means driving the scenic highway in.