JIM BEAM HOMEGOWN – 1 DAY… 8 STAGES… 62 KIWI ACTS.
LOVE IT!
Wellington really hums for events and Homegrown is a great example of how Wellington can really turn on the charm. The waterfront is amazing on a good day but then throw in a few thousand people having the times of their lives and it just got that little bit better 😉
Homegrown Music Festival has been held annually in Wellington since 2008, I have only been twice and can confirm I'm fully addicted. I couldn't picture a more perfect place for it to be held, just the way the stages are placed and right on the waterfront, not to far apart, but just enough to keep the mixture of different music styles part…Just right.  The organisers plan this event bloody well and bring in some epic acts, which made our day a challenge. I attended this with my beautiful girlfriend Lisa who had got us tickets as a Christmas Present, luckily we like the same music. However we still needed to come up with some plan to see who wanted, nothing a few local beers the day before wont fix. The way its set up kinda had us walking back and forth between the Dub & Roots stage and The Rock stage.
It's Homegrown you're going to end out walking, it's a big day and the walk is awesome!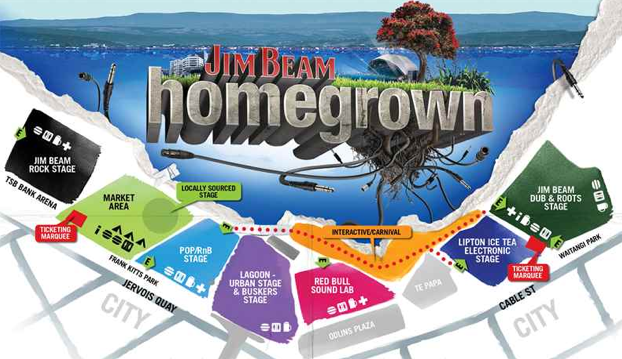 I fully recommend this event to everyone and I'm going to make that big call and say. If you only see one music festival in New Zealand, I would say this one! Why? It's as kiwi as you're going to get, the people watching is off the chart, it's crazy cheap and the entertainment is out of this world!  www. homegrown.net.nz
Here's a little crazy story about this years Homegrown: After all the stages close, around 11pm. We joined the masses headed for town. It's a crazy long day and we headed for the top of Cuba Street to one of my favourite quiet spots to unwind, The Southern Cross Bar.
Joined by a good mate we chilled out till close loving the garden bar and sharing all our stories of the acts we saw, the people and letting the ringing in our ears slowly disperse. The bar closed and we hit the streets and ended up in the tinniest bar, Havana Bar just around the corner where we suddenly realised we were sitting next to Ladi6 and member's of Fat Freddy's Drop who were having a good old jam session! Gotta love how small NZ is eh?